Young fish live and grow here
56 BIOHUT® nurseries
have been positioned in Port Fréjus
1 BIOHUT®
close to the periscope, through the slats.
And for the really observant, 1 en bord de quai
1 on the quayside and 54 under the decks.
28 different species
of animals have been recorded there.
360°
The periscope allows you to observe the underwater biodiversity of the BIOHUT®.
What biodiversity
is found IN A BIOHUT®?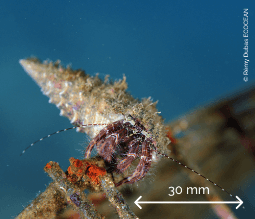 HERMIT CRAB
Pagurus anachoretus

This shaggy-looking soft bodied creature with olive green eyes protects itself by crawling into the empty shells it finds in shallow water.
Some live in symbiosis with anemones, whose sting acts as an effective shield against predators.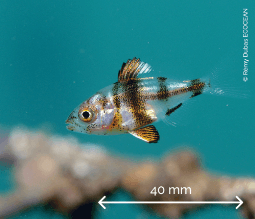 SHEEPHEAD BREAM
Diplodus puntazzo

If you put your head under the water, the first fish you will see are the sea bream!
They are very popular with fishermen and divers - both underwater and on the plate.
This one is a large fish that as an adult is solitary and can be recognized by its pointed nose.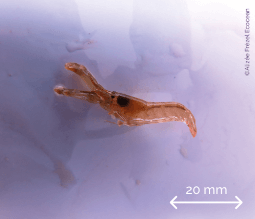 BIG CLAW SNAPPING SHRIMP
Alpheus macrocheles

This orange shrimp, quite common in the Mediterranean, is characterised by its large claw that snaps to produce a powerful jet of water. The sound it makes allows other animals to identify it. It is used for defence, moving materials and feeding.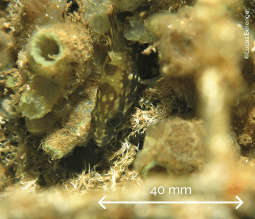 DUSKY GROUPER
Epinephalus marginatus

An iconic protected fish, it makes its home on a rocky seabed inside a shelter and does not move far from safety.
A voracious carnivore despite its rather sluggish appearance, it can grow to 1.5 m, weigh 100 kg and change sex once in its lifetime, going from female to male.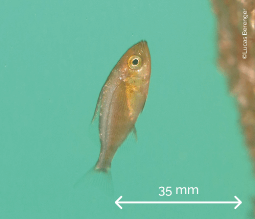 GREY DORADO
Spondyliosoma cantharus

This little-known fish is a real champion in changing its livery (colour). When young, it is an old gold colour. As it grows, it takes on a more silvery colour, but as night falls, it covers itself with 5 vertical stripes as if it were putting on its pyjamas.
Why
SHELTER IN A BIOHUT®?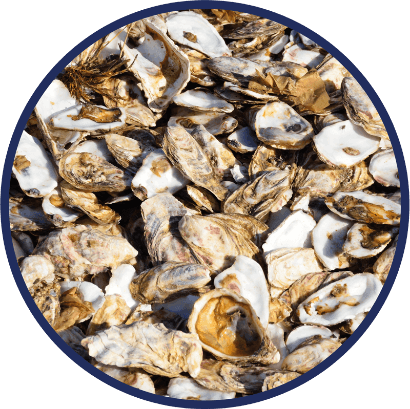 BIOHUTS® PROVIDE SHELTER FOR YOUNG ANIMALS!
Made of recycled oyster shells, a Biohut® is a great support for the development of attached fauna and flora and offers plenty of hiding places. A really comfortable home for all this biodiversity!