Inauguration of the GROUPER TRAIL
An event at Port-Fréjus on Sunday 23rd August from 6 p.m: the Harbour Master's Office will inaugurate France's first educational marine biodiversity trail in a marina, as part of the Marine Biodiversity Festival.
At the foot of the Esterel massif, in the heart of the Pélagos marine sanctuary, Port-Fréjus is a much-loved marina for pleasure boaters. Part of the Blue Flag scheme since 1993, a certified "Clean Port" since 2011 and "Clean Ports Proactively Supporting Biodiversity" since 2019, the port boasts all the facilities needed to safeguard the environment and each year carries out dozens of awareness raising drives among its users and in schools.

As well as the BIOHUT® artificial fish nurseries located in the port, the Public Private Partnership which manages Port Fréjus decided to set up a learning trail to raise public awareness about fundamental subjects regarding marine biodiversity and eco-citizen initiatives.
In partnership with the company, PLANET NUDGE and ECOCEAN, the Public Private Partnership which manages Port Fréjus wanted members of the public to take action by creating a learning trail called the "GROUPER TRAIL" sponsored by extreme diver and explorer, Alban MICHON. The idea being to create a pedestrian and underwater trail around the port to raise awareness about protecting our marine environment.
With this trail, we hope to encourage the port's visitors to be as respectful as possible towards our marine environment and to place the keys to change in their hands.
This is a major first for the ports on our coastline. We hope to extend the idea to other marinas home to nurseries, with the aim of raising public awareness about environmental catastrophies caused by wrong actions (pollution, refuse, loss of biodiversity, etc.).
The inauguration of the "Grouper Trail" will be held on Sunday 23rd August 2020 at 6 p.m. in front of the Harbour Master's Office.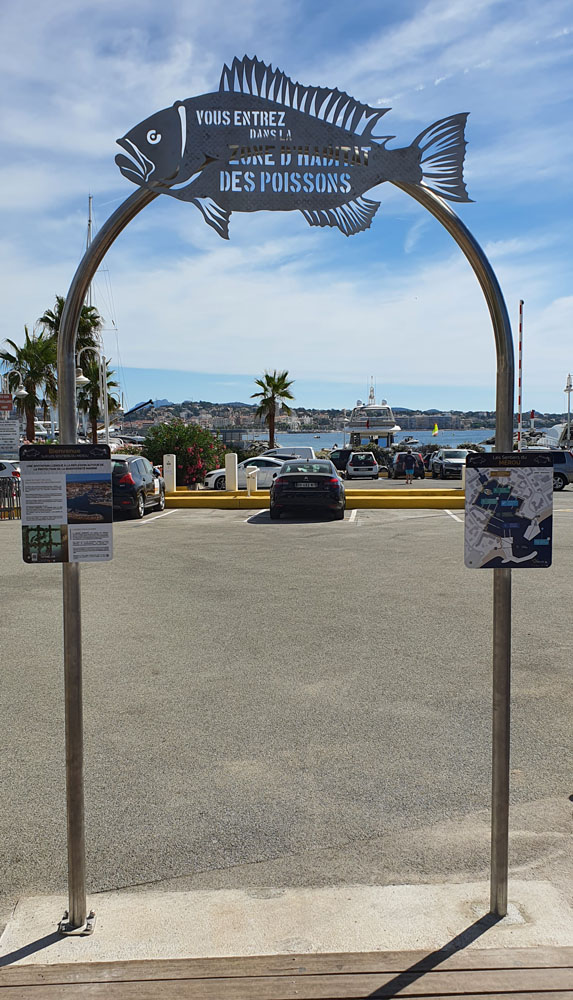 exemple d'un panneau d'un module du sentier du Mérou
Back